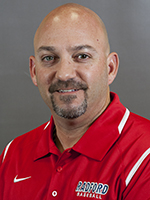 Head Baseball Coach
Joe Raccuia
For Radford head baseball coach Joe Raccuia, the Highlander uniform is a comfortable, familiar fit.

Raccuia, a 1995 Radford graduate, returned to his roots on July 10, 2007 when he was named the fifth head coach in Radford baseball history. A Radford uniform is also a winning fit for Raccuia: he's been a part of 186 total wins as a player (1994-95), assistant coach (1996) and head coach (2008-present), better than 30 percent of the program's all-time victories dating back to 1985.

Included in those seasons are both of Radford's 30-win campaigns: he was a team captain in 1995 when the Highlanders won 30 games and was the head coach leading RU to a school-record 31 wins in 2011.

In each of his four years the Highlanders have improved on their win total, including the record-setting 2011 season and a 29-win campaign in 2010. Following the 2011 season, Radford is the only Big South school to improve its overall win total in each season over the last six years.

Raccuia's success has come both on and off the field of play, including facilities, player development, recruiting and academics.

On his watch, two major baseball facilities have opened: the on-campus hitting facility and RU Baseball Stadium. The stadium, which opened on April 8, 2011, became the cornerstone of Radford's program thanks in part to Raccuia's extensive fund-raising and planning efforts. The project went from conception in the Fall of 2010, to completion during the 2011 season as a result of his work. Raccuia also spearheaded the work done to the playing surface and dugouts in time for the 2010 season. All of the improvements to the facilities marked the first major capital upgrades since Raccuia's playing days at RU
Many of his wins can be attributed to his work in player development: a nucleus of players that he inherited in the early stages of their careers helped the program turn the corner. Four of those players capped their careers in the 29-win season: Reggie Keen, Tyren Rivers, Raphael Turner and Aerik Taylor. Keen went on to a professional career after a solid three years under Raccuia with a .354 career batting average, fourth all-time at Radford; Rivers became the school's single-season and career stolen bases leader in Raccuia's offensive system; Turner overcame injuries to post a team triple-crown season as a fifth-year senior; Taylor transferred in and assumed the role of ace starting pitcher in Raccuia's second season. Alex Gregory and Eric Evans were part of the turnaround and flourished at the beginning of Raccuia's stint at Radford: Gregory finished his career with back-to-back .400 seasons (2008-09) at the plate under Raccuia, while Evans anchored the pitching staff in 2008 with 14 starts and a 3.34 ERA. Gregory and Evans were both Major League Baseball First-Year Player Draft picks.

Raccuia's recruits have been major contributors to Radford's improvement and have made their marks in the school record books and in the conference annals. Eight of Raccuia's recruits have matched or established new school records, including Abram Williams and his career and single-season saves marks, and Eddie Butler with his single-season victories record. In 2011, Butler became the first Radford player since former major leaguer Ryan Speier (2001) to play in the prestigious Cape Cod League. Jeff Kemp, a team captain in 2011, became the first Radford player to earn Big South Freshman of the Year honors in 2009. Including a record six all-conference selections in 2011, 16 of Raccuia's players have earned all-conference honors.